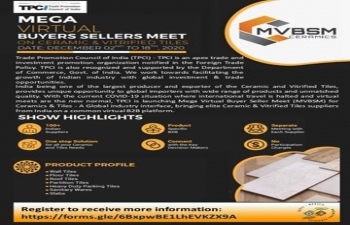 Greetings from the India Mexico Business Chamber!
We are pleased to extend an attentive invitation to  a Virtual Buyer-Seller Meet on Ceramics and Vitrified tiles from 2nd December 2020 - 18th December 2020.
Indian being one of the largest producers and exporters of ceramics globally, gives immense opportunity to explore and connect with Indian Suppliers for strategic tie-ups and import possibilities. Amid this Covid-19 situation, where travel has been halted and virtual meetings has become the new normal, TPCI is launching Mega Virtual Buyers Sellers Meet (MVBSM) on Ceramics and Vitrified Tiles between 2nd December to 18th December 2020 - A unique Industry Interface to connect you with the elite manufacturers and suppliers of Ceramics, Tiles & Allied products from India. It will be a 3 week country specific Virtual B2B event with over 20 B2B sessions connecting over 200 industry leaders globally with at least 2000 pre scheduled meetings.
We would like to extend the invitation to you and your purchase team for this Virtual B2B event and be part of this unique platform to connect with over 100 suppliers from India. Also TPCI will waive the participation fee as a goodwill gesture.
Session Schedule:
Date

Focus Product Categories:

 

14th Dec 2020 

Wall Tiles , Floor Tiles, Roof Tiles, Partition Tiles, Heavy Duty Parking Tiles, Sanitary Wares, Slabs etc.
We have also attached an information flyer for your reference, requesting you to please register https://forms.gle/6BxpwBE1LhEVKZX9A to receive further details on this event.