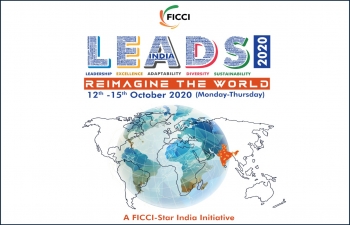 "LEADS 2020: Reimagine the World", initiative from FICCI, spanning the globe and curated as an engagement platform for insights into five fundamental questions that underlie the quest for global economic prosperity, which is inclusive and sustainable for well-being citizens. As shared earlier, this year, the program shall be organised on a virtual platform from October 12-15, 2020 (Mon-Thus.)
LEADS 2020 will be a confluence of global leaders, influencers and opinion shapers across the world. It will facilitate round clock engagement taking into account time zone differences with East Asia, Central Asia, South Asia, ASEAN & Oceania, Europe, Africa, West Asia, Americas and the Pacific. The virtual event this year will be hosted and managed on a FICCI exclusive platform, specially designed, developed and created with all privacy and data security features. 
The Inaugural, Valedictory and Regional Session focusing on Mexico would be of particular interest for you as it would focus on sectors which have immense potential for collaboration between India and the region.
Global CEOs from India and across the world have started confirming their participation.  Please visit :www.FICCILEADS.infor more details on LEADS 2020.
For your industry members, to join LEADS 2020, please register at:https://registrations.ficci.com/filead/online-registration.asp